If you learn how to turn your bathroom into a spa retreat, you will have unlocked a new level of self-care. And we think bathroom-turned-spa helps achieving the actual spiritual nirvana that even spiritual retreats fail to offer.
You must have seen the spa-like bathrooms on interior designers' pages. Or maybe when you were out on a luxurious or spa retreat. One thing those bathrooms exude is class and sophistication. They look so relaxing.
However, you don't always have to go to a spa retreat to enjoy the pampering. You can always come back home to a classy and spa-like bathroom. And, you do not need to get the most expensive interior designer in town. You can get creative and transform your bathroom into the most relaxing space in your house. All by yourself.
And the pros of going this way:
you get an at-home spa to go to every evening,
explore how creative you can get with transforming spaces,
spend less money to have a lifelong spa bathroom.
We discuss ideas you can use to create yourself a home spa bathroom.
Top Ideas to Create a Spa-Like Bathroom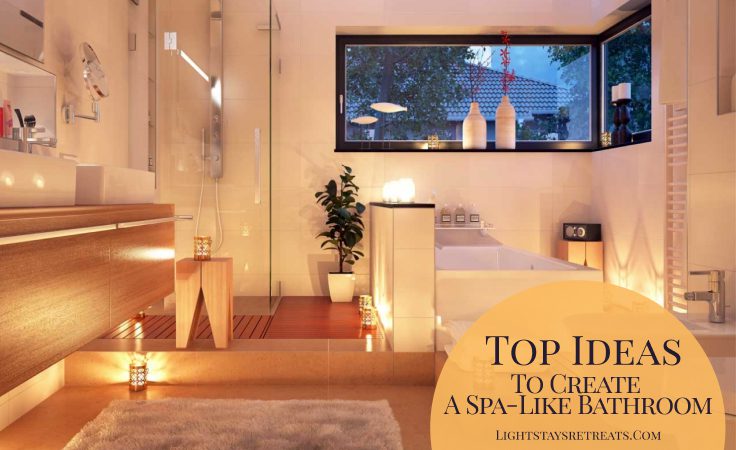 Here, we give you ideas to help you transform your bathroom into a luxurious retreat. The kinds that you constantly bump into on your Instagram feed.
No, your bathroom does not have to be huge. These ideas will work well with a small bathroom too. And if you get creative, your small bathroom could soon be your personal home spa.
Here, let's get down to business.
Turn bathroom into spa retreat #1: Introduce Some Greenery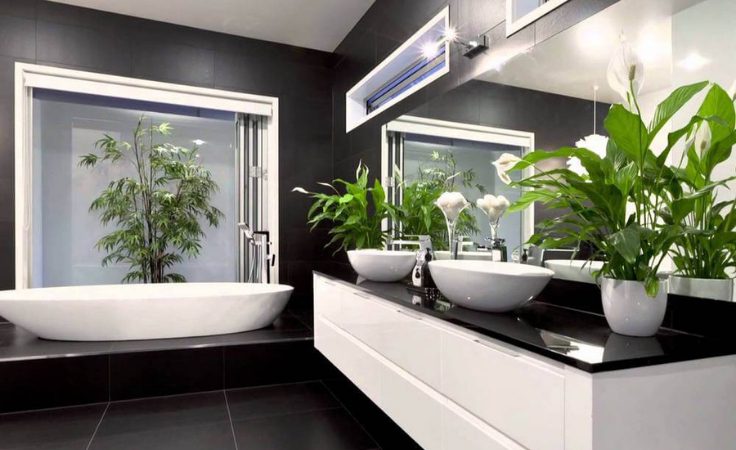 Introducing some plants in your bathroom can help create an excellent spa-like experience. You must have noticed how potted plants change the ambiance of spa bathrooms.
How do you put plants in your bathroom?
Consider having a hanging plant near the window. This way, the plant can elevate the bathroom's ambiance while still receiving enough light from outside.
No bathroom window? No worries. You can go for plants that do well in minimal lights. Some of your choices can include:
spider plant,
Boston fern,
bamboo plant,
Artificial plants could be another good idea.
Tip: Ensure the plant pots of your bathroom plants are neutral or match your bathroom's color scheme.
Turn bathroom into spa retreat #2: Hang a Chic, Flowing Shower Curtain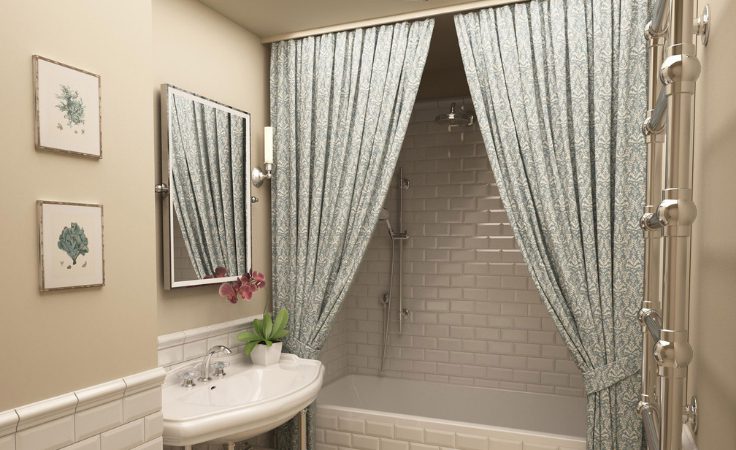 A classy curtain can transform the mood in your bathroom. A light sheer curtain can add a sense of gentle movement and flow of light to your bathroom. Therefore, consider getting a sheer neutral curtain for your bathroom window.
You can still achieve a spa-like feeling if you have no window by replacing your regular shower curtain. Change it into something airier and light. You can get a lot of inspiration by looking at elegant bathroom shower curtain ideas.
Turn bathroom into spa retreat #3: Light a Scented Candle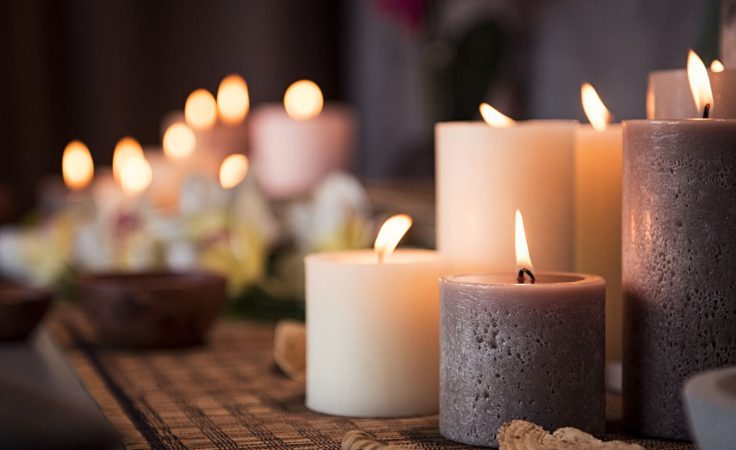 Bathroom candle decoration can instantly help you relax after a long day at work.
It is even a plus if you have classy spa candle holders.
After a long day at work, you can light the scented bathroom candles and have a personal spa moment in your house. The aroma of scented candles will take the spa-like feel a notch higher.
And it's not just the aroma of scented candles. There is a beauty that comes with lighting candles.
Turn bathroom into spa retreat #4: Add Some Art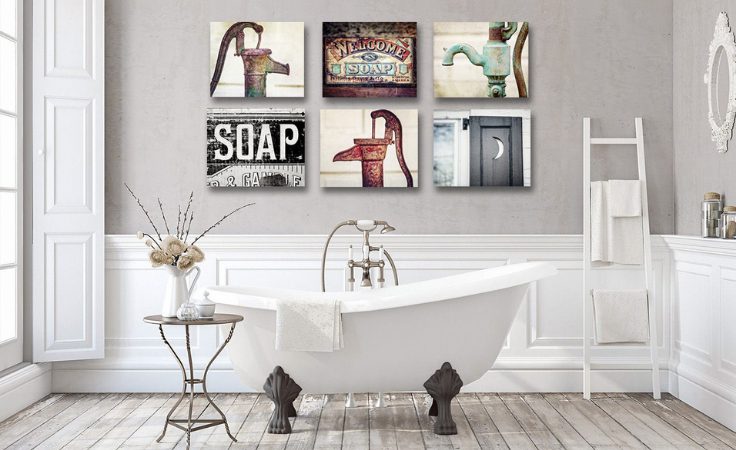 There is something about minimalist art that screams class and sophistication. And this is precisely what you are trying to get your bathroom to feel like.
Do you see how artwork makes the living room more welcoming and dynamic? It will have the same effect on your bathroom.
Are you wondering what to put on bathroom walls? Of course, you may want to go for waterproof art for the bathroom. Also, you can have a small part of the wall transformed into a gallery wall.
Turn bathroom into spa retreat #5: Create Fancy Shelves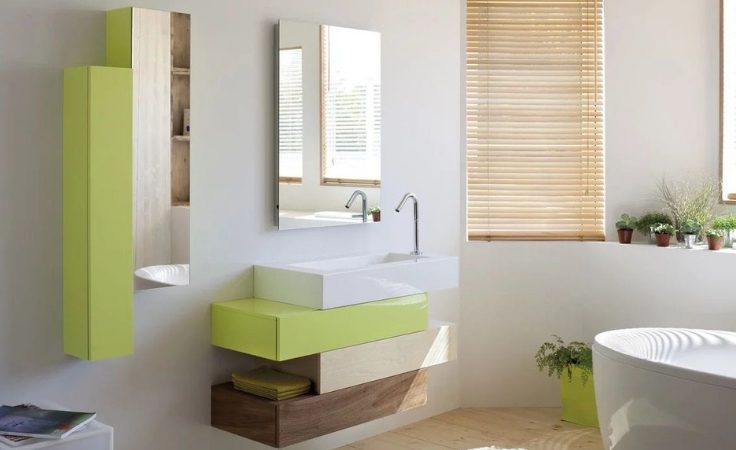 Shelves work like magic in organizing a small bathroom. And those shelves are not just to get your bathroom essentials organized. You can get decorative open bathroom shelves that will transform things. (1)
With modern bathroom shelves, you can display your:
baskets of fancy towels,
artificial potted plants,
candle stands,
fancy soaps and supplies.
Turn bathroom into spa retreat #6: Go All White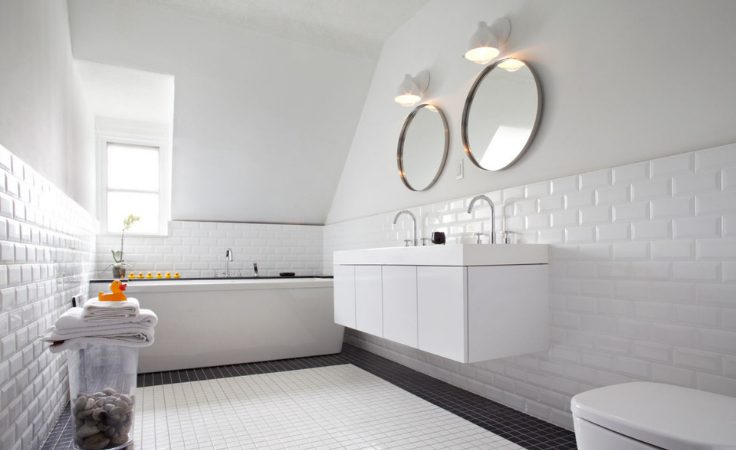 White comes with an impressive luxurious feel that you want to introduce in your upcoming home spa bathroom. When you see a purely white bathroom, the impression created is:
cleanliness,
purity,
brightness.
And this is the feeling most spas give. Having your walls and bathroom accessories all-white will give your bathroom a tranquil setting that you can relax into after long days.
Turn bathroom into spa retreat #7: Add Gold Accents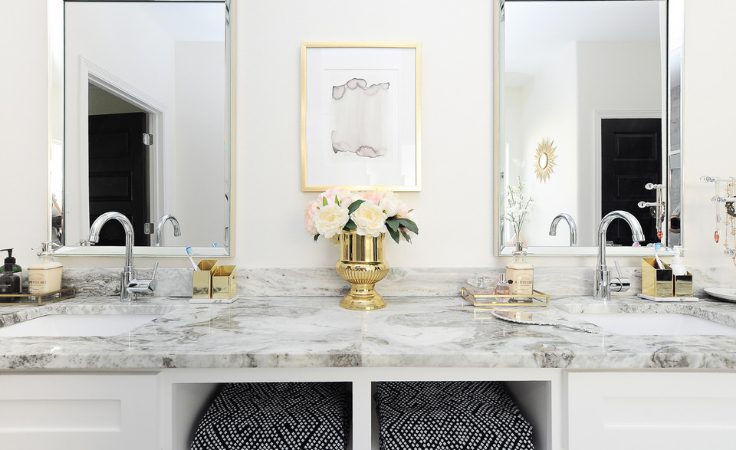 You know this already. Gold and luxury belong in the same sentence.
A gold and white bathroom will make your space feel luxurious.
Careful with the gold, though. If you want a lavish-looking bathroom on a budget, try having a white bathroom with gold fixtures on:
cabinet handles,
mirror frame,
soap dispenser,
towel rack.
Turn bathroom into spa retreat #8: Get Fancy Towels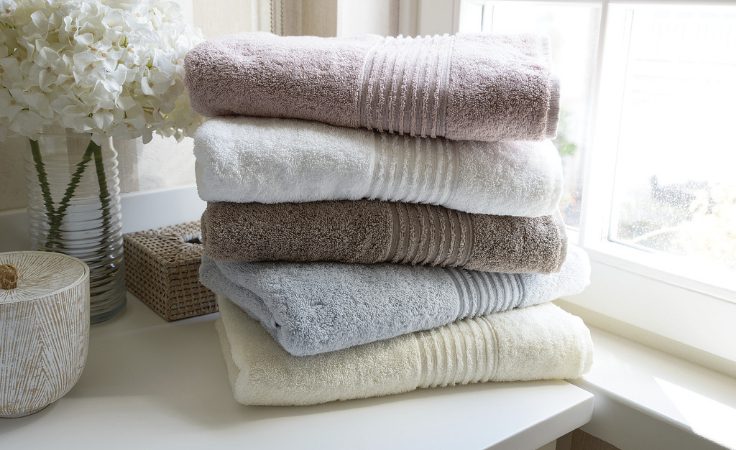 Yes, it is time to get those decorative bathroom towels you have been thinking about.
You want the towels and the hand towels to be white, just like in most spas. (2)
Besides, if you are recreating a spa from a small bathroom, chances are your towels will always be on display. You, therefore, want them to upgrade the look.
Tip: Learn a few fancy towel folding ideas for bathrooms. This will make them look more intentional than messy.
Turn bathroom into spa retreat #9: Reduce Visual Clutter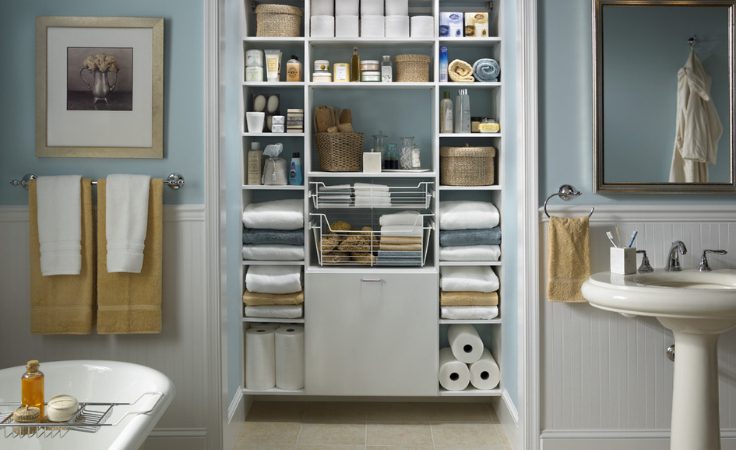 Relaxing can be challenging with clutter all over the shelves and counters. Declutter your bathroom to create a more tranquil spa-like ambiance. Learn how to keep the bathroom counters clutter-free.
How do you declutter everyday products from your smaller spaces? You can have the items organized in clear glass jars. Or have them arranged in toilet bags before placing them on open bathroom shelves.
Turn bathroom into spa retreat #10: Use Dimmer Lights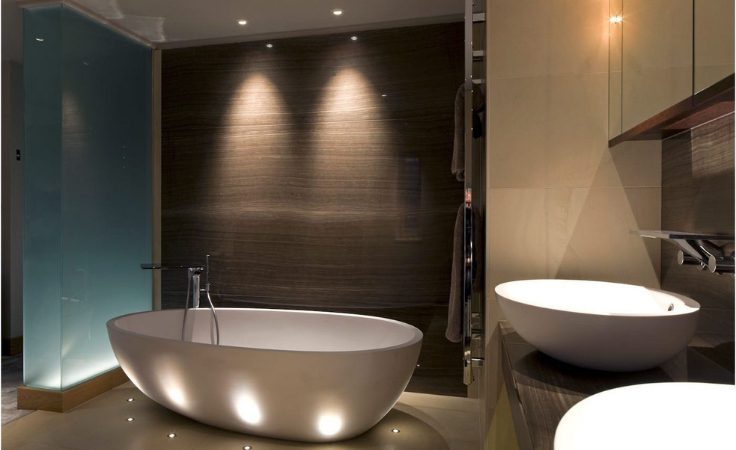 Dimmer lights can make the final touch in the whole room more relaxing. You do not want bright lights straining you further when you are trying to relax your body and mind.
Sometimes, the candlelight is enough. However, you can install dimmer or dim light bulbs.
Turn bathroom into spa retreat #11: Clean your bathroom Frequently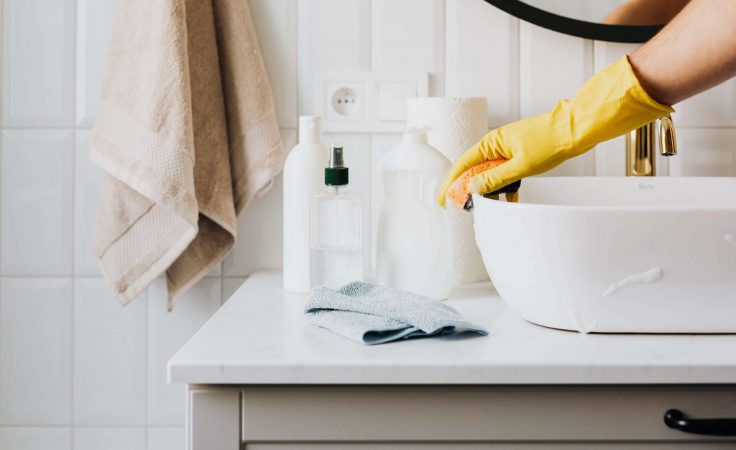 The question of how often you should clean your bathroom comes up.
Now, you want your bathroom to give you the clean feeling the commercial spas give you. Therefore, you should aim to thoroughly clean the tub, surfaces, and floor at least once a week.
A clean bathroom makes it easier to jump into the tub anytime you need to relax your mind and body. Who wants the burden of worrying about grime lurking in the bathtub after they have had a stressful day at work?
12. Cozy-up the bathroom Floor with Warm Rugs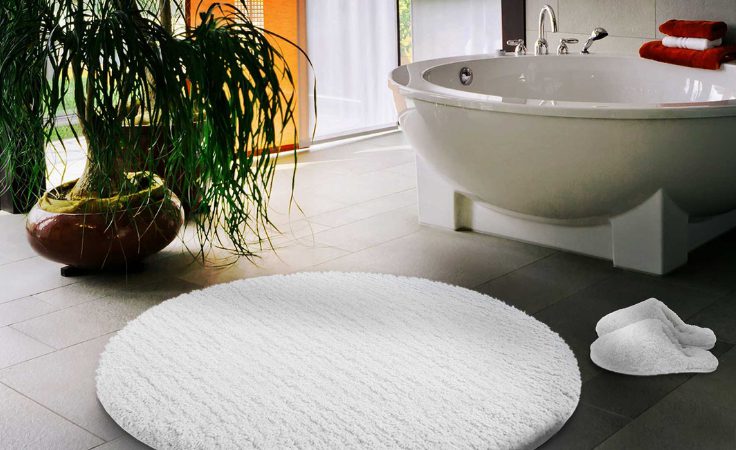 A large bathroom rug will transform your bathroom into your dream spa bathroom.
A cozy rug will keep your bare feet comfortable and warm. Your bathroom is your new home spa, and you don't want to be in contact with the frigid floor. And it's not just for the comfort it brings to your feet. A cozy rug adds a layer of sophistication to your bathroom.
Get that cozy floor rug for an added level of comfort.
13. Go Strong on Aromatherapy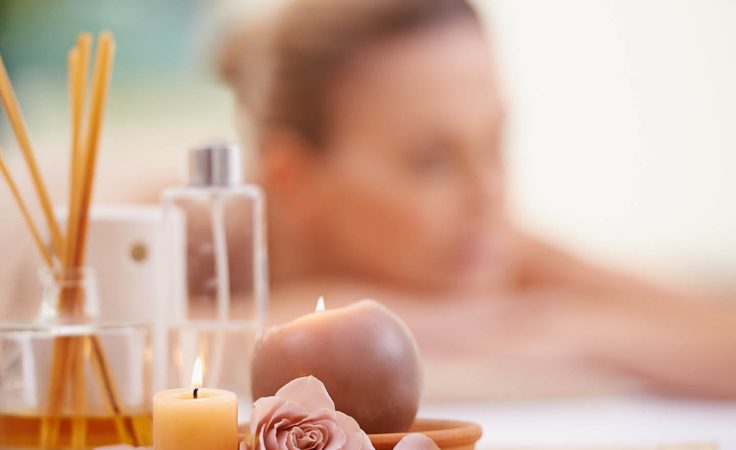 Calming scents are an essential part of creating a relaxing and healthy environment. Fresh flowers and rose petals are good for overall wellness. But you cannot buy fresh flowers daily. For your everyday life, do not overlook aromatherapy.
To optimize the spa-like effect, get an aromatherapy oil diffuser. Also, use essential oils in heated towels to get a calming effect.
14. Get Speakers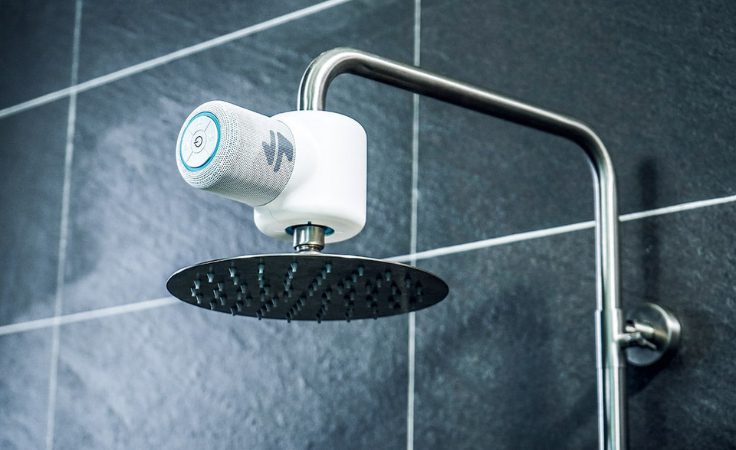 After a busy day, you want to go back and unwind in a spa-like bathroom with gentle and soothing music. Yes, the sound is a critical element in making your space more welcoming and relaxing. (3)
Create a Zen music playlist or sounds of nature such as raindrops.
Tip: Ensure you shop for a speaker that works well in a humid environment. Many Bluetooth speakers are water-resistant. They, therefore, could be a perfect choice.
15. Use Calming Colors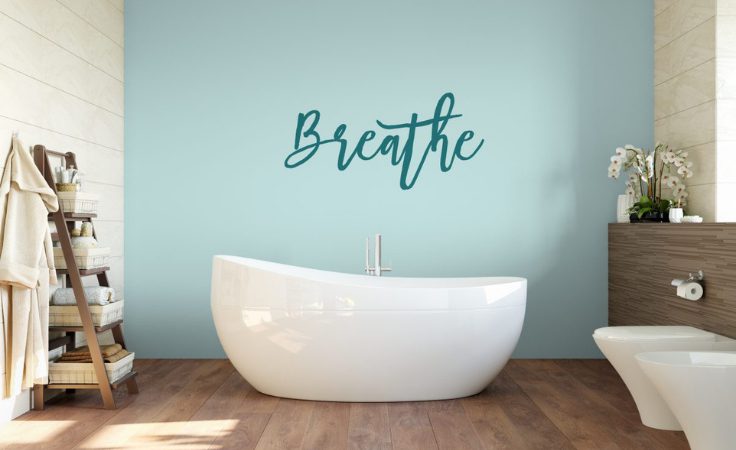 Making your space neutral and calm can have a positive impact on your mind. Consider other neutral colors if you do not want to go with an entirely white look or a white and gold bathroom. The secret is ensuring that the color combination or the design details of your color schemes match.
How to use color in the bathroom to create a cohesive look can be challenging. Spa paint colors for the bathroom would work the magic. If you are having trouble finding the best colors for your bathroom, go for earth colors. The other good option to make your space calmer and relaxed is the powdery and calmer shades of either green or blue.
16. Hide Unaesthetic Items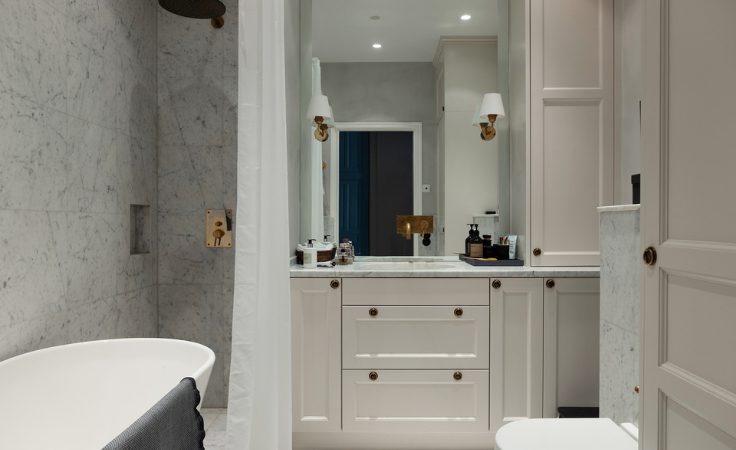 If it does not add aesthetic value to the space, it should go in the cabinets. Have a medicine cabinet for your:
bathroom toiletries,
toilet rolls,
Medicine and skin creams.
If you don't use it daily, let it go into the cabinets.
17. Upgrade to A Massage Shower Head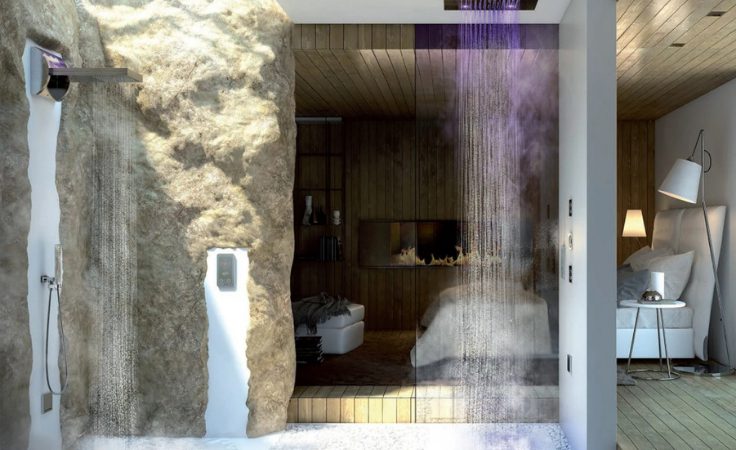 A long hot bath on weekend mornings can be refreshing. And the effect is even more rejuvenating with a massage showerhead. If you don't have a large soaking tub, you need to get a massage showerhead. What you get will depend on your preference. For example, you can go for the waterfall shower design or a high-pressure or hand-held shower.
That is an excellent way to make your showers more luxurious.
18. Bring in a Bathtub caddy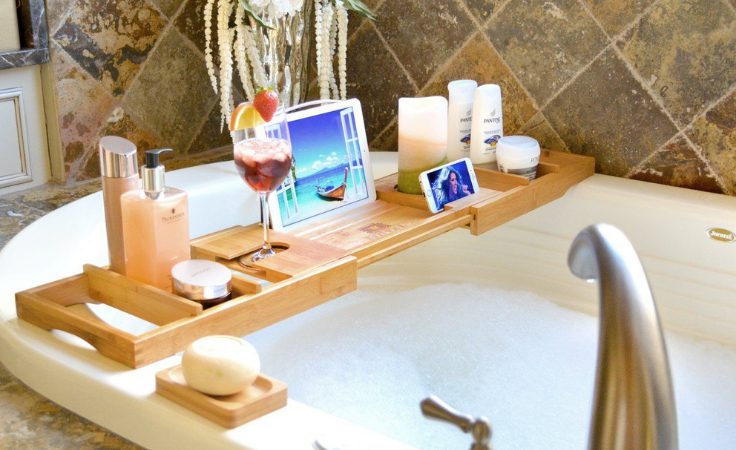 If you have bathtub moments sans a bathtub caddy tray, you are missing out on spa vibes. If you want to transform your bathroom into a spa, buy a bathroom caddy.
With a shower caddy, you can organize your bathroom well and keep it clutter-free. But even more critical in creating a spa vibe, a caddy keeps all the items you need within your reach. You do not want to get up and get essentials off the cabinets during your home spa retreats.
The good thing about bathtub caddies is that they come in different styles. You will not have trouble finding something that matches your style.
19. Introduce a Small Side Stool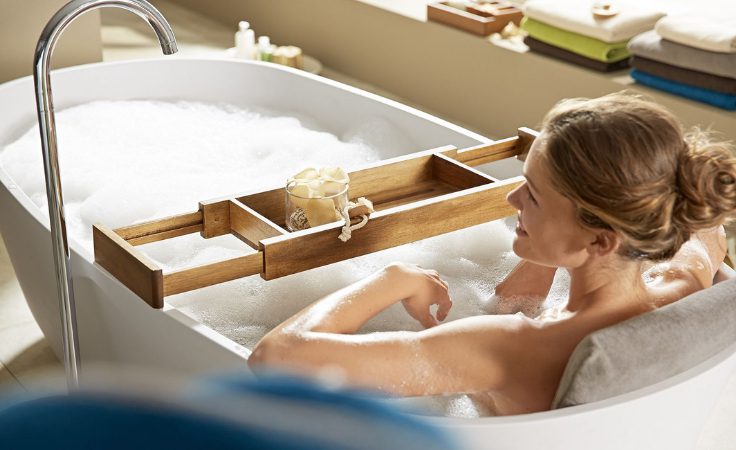 A small stool by your bathtub will add some touch of luxury and spa-like vibes to your spa bathroom. You can have your towels folded neatly and placed on a small wooden stool. It will not only give you a spa-like feel, but it will also keep needed items within reach. You know what's the best part of it? Just a minor addition can also help you with luxury retreat.
You can also use the small wooden stool or chair while applying lotion.
20. Mix-up Things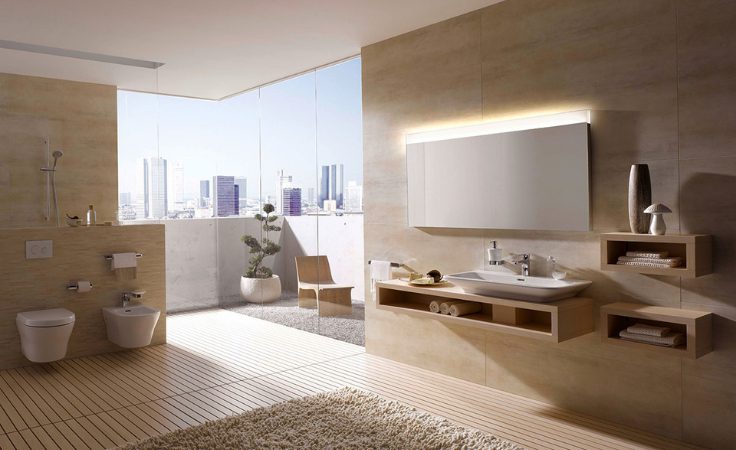 Consider mixing up things in your bathroom (read as a personal spa) for a more profound sense of Zen and relaxation
You can have a mix of nature-inspired furniture or stones with modern materials. Besides, this mix always develops a greater visual interest. You will love how it creates a natural flow between the outdoors and the indoors, especially if you have a small bathroom.
21. Warm Your Towels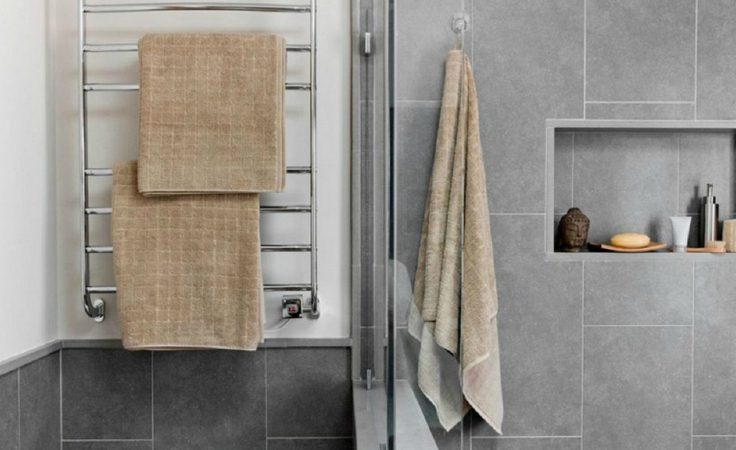 You know how heavenly a fresh towel feels! Putting your towel warmer to good use means a fresh towel every time you need them. Tell me, what more screams 'spa bathroom" than fresh warm towels every other single time?
Besides having fresh towels without frequently doing the laundry, a towel warmer means dry, scented, and mildew-free towels. How comfortable?!
22. Use Natural Woods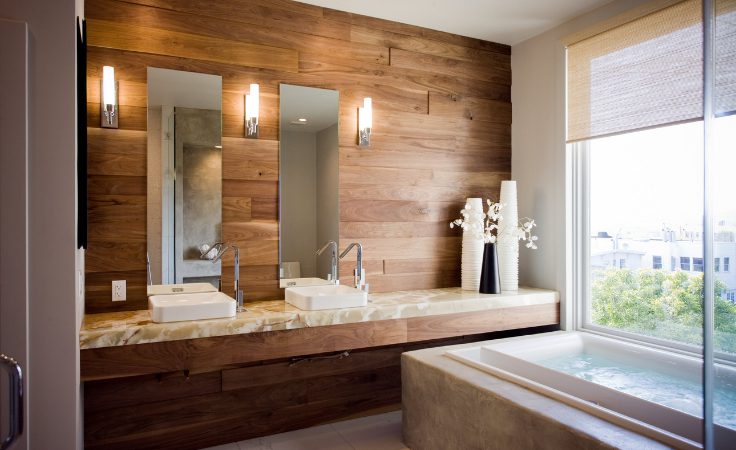 Natural elements are an excellent way to introduce warmth to your space. Furthermore, natural elements and materials dampen the sound. This, in turn, makes your space more calm and serene.
Furthermore, natural wood furniture effortlessly adds a touch of luxury to your space.
Tip: Go for high-quality and waterproof wood. This way, you don't have to worry about humidity or water damaging the wood.
The best choices would be:
They are all beautiful and durable.
23. Buy a Bathroom wine or champagne holder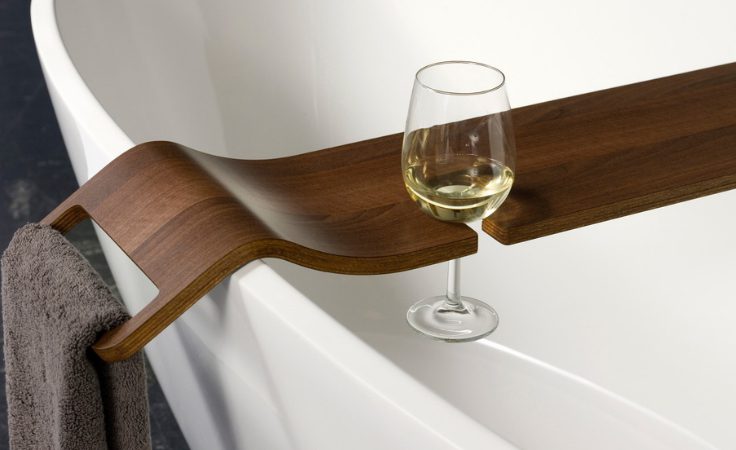 Picture this;
You have had a long week at work with barely any time for yourself. The weekend is here, and you want to unwind. You set a warm bath, get bath bombs, or maybe red petals. The idea is perfect for relaxation. But there is one thing missing, a glass of wine.
To add a glass of wine to this mix, you need a bathtub wine holder. This way, you can have more fun unwinding over your home spa weekend.
24. Add a Bathroom Bidet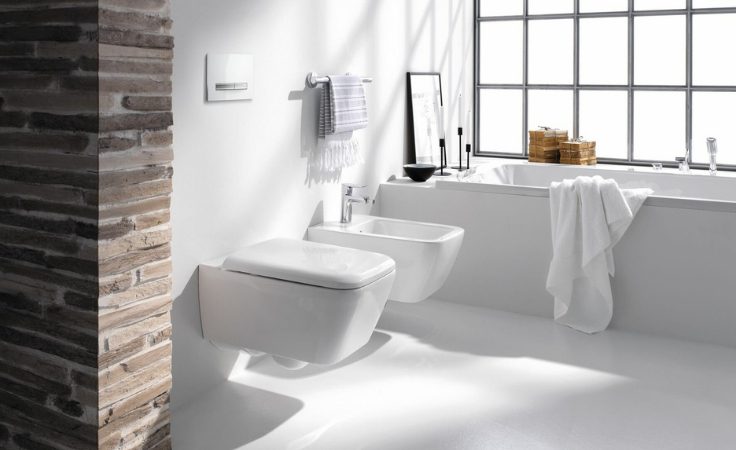 A bidet takes your bathroom comfort and hygiene to a whole new level. If you wonder why the rest of the world is obsessing over bidets, it's because of the pros it comes with. And this is probably why many modern spas are installing them in their bathrooms.
With a bidet, you will forget about the irritation that comes with dry wiping paper. Use of bidet feels good and leaves you with less risk of rashes, hemorrhoids, and UTIs.
25. Opt for Classy Wallpapers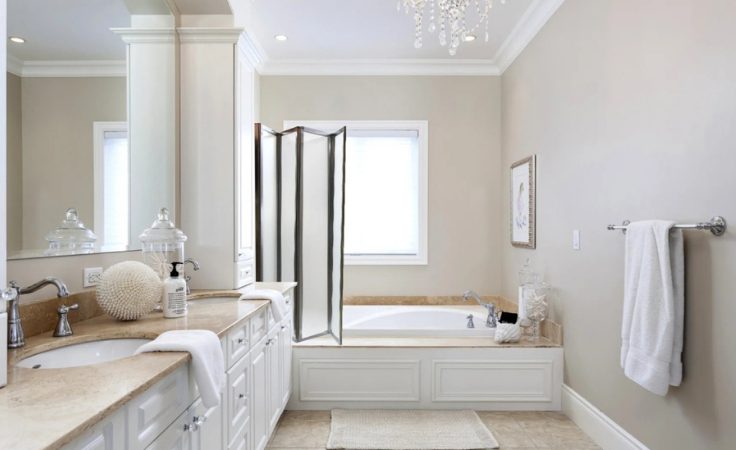 There are a lot of classy wallpapers that can transform the ambiance of your bathroom. Vinyl wallpapers are durable and prone to splashes. This, therefore, makes them more suitable for your bathroom.
Another good thing with wallpaper is that they are easier to change. You can change the mood of your bathroom whenever you want to.
26. Add Faux Wood Tiles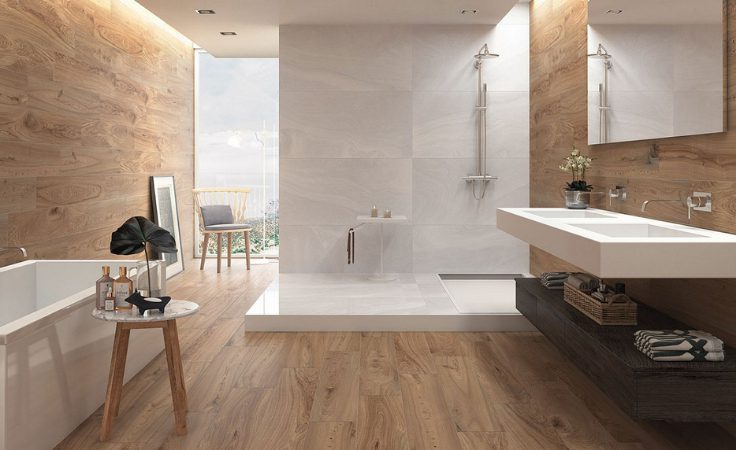 Wooden floors evoke a strong sense of warmth and peace. However, unfortunately, you cannot have a wooden floor in damp areas such as the bathroom. It is not a good idea and you will hate it when the wood starts to rot.
Fortunately, you can use faux wood tiles to create the same mood. And the good thing about faux wood is that they come in many different patterns. You will definitely have something to match the decor of your own home and bathroom.
27. Have a Your Tub by the window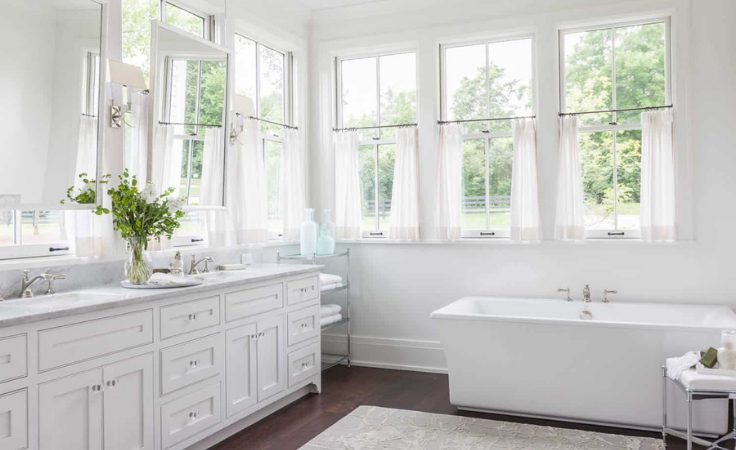 Shower windows are still a no-go zone for a lot of people. Well, primarily for their privacy. You can use window shutters for that.
If you can have your tub by the window, go for it because
You will have a great view.
it will give you an illusion of a spacious and bigger space, even if your bathroom is tiny.
You will enjoy lots of natural light.
Also, a window reduces the occurrence of bathroom molds.
28. Paint the Ceiling the Same Color as the Walls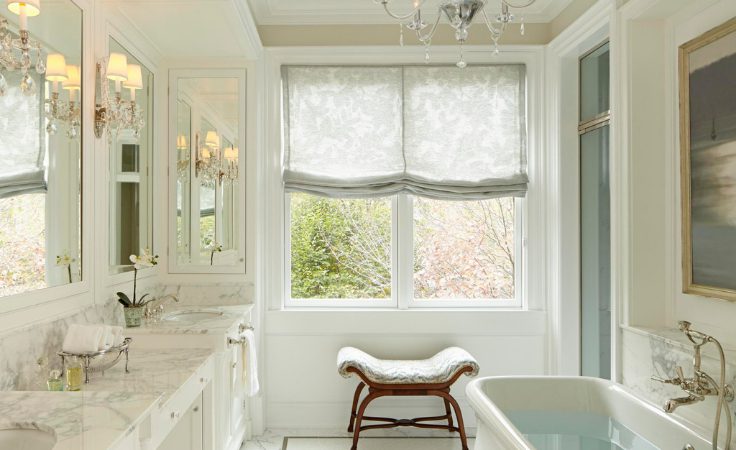 This is one trick spas use to make their spaces appear prominent. And you, too, may want to use this to make your bathroom appear visually bigger. Having the continuity creates an impression of a bigger space.
However, if you want a different shade for the ceiling, always ensure the ceiling is a lighter shade than the walls.
29. Have Big Mirrors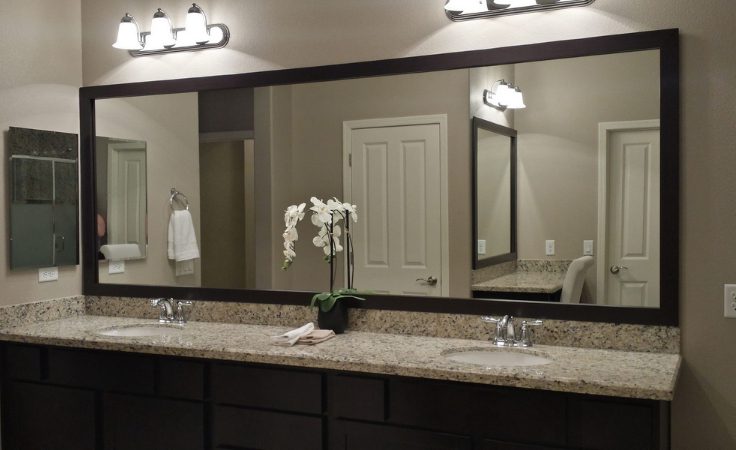 Another trick is to go bigger with the mirrors. And it is not just to help you have your make-up on or to get ready. big mirrors are suitable for:
reflecting lovely views such as your flower vases or art,
making a smaller space appear bigger,
bringing much more light to the room
So, instead of just having a small mirror just above the sink, consider having a mirror that covers the entire wall, or at least a considerable part of it.
30. Heated Floors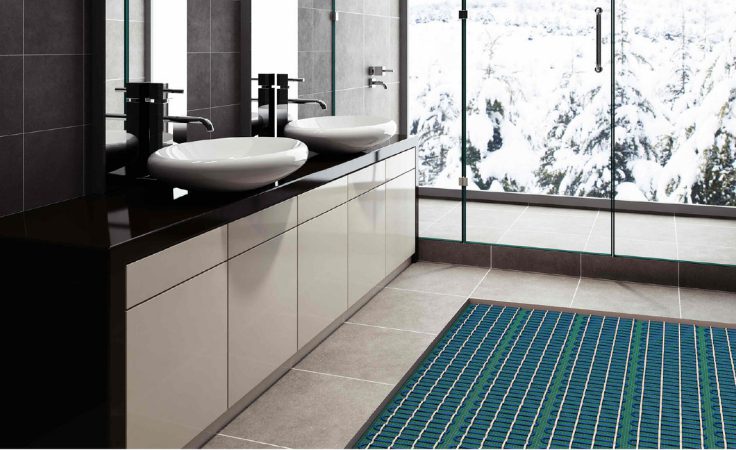 This sounds pretty on the higher end for a lot of people. But, it is not that expensive. It will be worth it, especially if your bathroom surface area is small. And if the bathroom is the only room with heated floors.
It does not feel nice to walk in for your spa time, only to be met by frigid floor tiles. Therefore, if you can have the floor heated, go for it.
Final Thoughts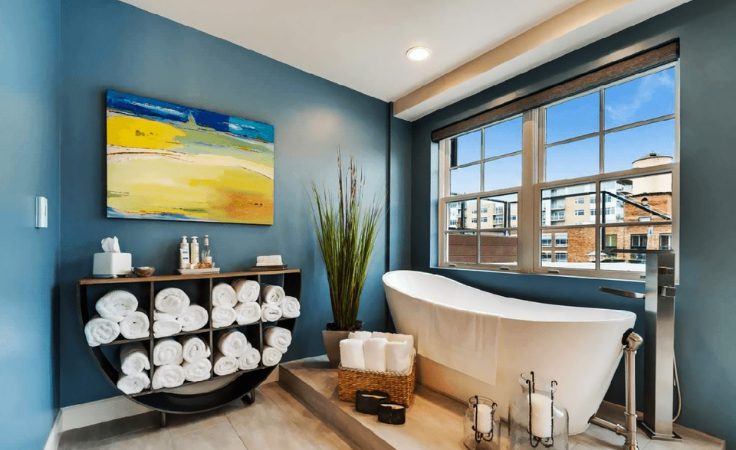 A luxurious life is something we all want to live every day. However, you cannot keep visiting your favorite spa or luxurious hotel due to the costs and busy schedules.
The good thing is that you can bring that luxury right into your own home. Transforming your bathroom into a little paradise will have you looking forward to those personal spa retreats. And you will realize it is not a tricky or exorbitant process. Small and cheap steps can help you transform your bathroom into a spa.
Go ahead and bring your dream spa to your home. You will forever keep looking forward to the end of days and weekends. If you still fell short, you can watch out for retreat planners in California and Arizona.
Check out more retreats for you and your loved ones.
Sources:
1 https://www.thespruce.com/perfect-spa-retreat-style-bathrooms-1975792
2 https://www.homesandgardens.com/ideas/spa-bathroom-idea
3 https://www.improvenet.com/a/10-affordable-ideas-that-will-turn-your-small-bathroom-into-a-spa