Arizona retreats are superb and magical. Many people have been to different retreats in different parts of the world. They, however, seem to go back to Arizona year in year out. No, there is no magnetic pull or something. It is just because it has won hearts as people's happy place.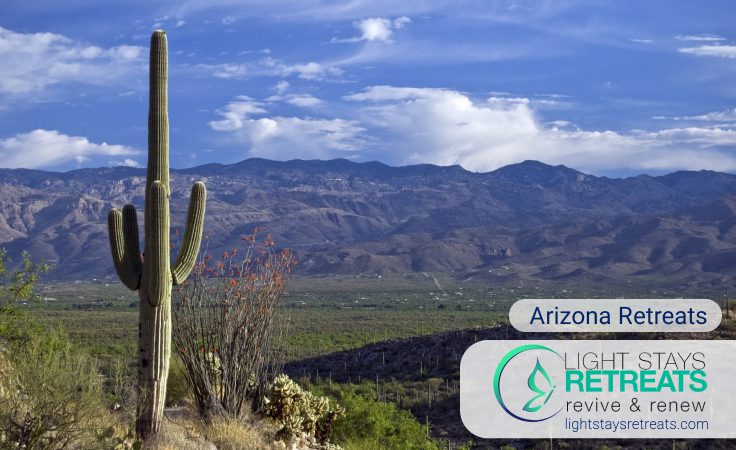 And we, at Light Stays Retreats are just among the people who have been fascinated with what Arizona has to offer. We will never get enough. 
What crosses your mind when you think of retreating in Arizona? Let us guess, the Grand Canyon. Yes, too many people, vacationing in Arizona is synonymous with exploring the Grand Canyon. However, Arizona has much more to offer. And that is what we show to you in this article. 
Our goal in this post is to help you get ready for your wellness retreat in Arizona. We indulge you in the beauty and diverseness of Arizona and the wellness resorts it has to offer. They are the ultimate way to rest, explore and still get thorough rejuvenation.
Come with us to explore the resorts in Arizona.
Why Arizona Wellness Retreats?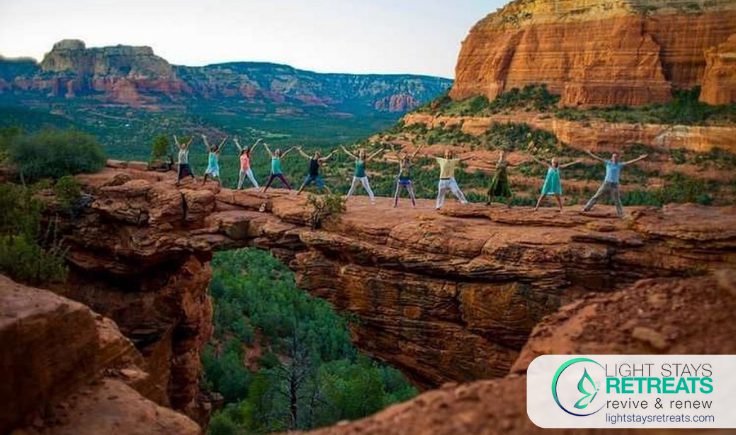 We love to kill two birds with a stone. Who doesn't? It makes everything much easier and efficient. And that is why we love to ensure wellness retreats are:
as fun as regular vacations,
super-good and adequate for our health and well-being.
Arizona is one of the handpicked places that can give you a touch of both worlds. Looking for the best locations for your wellness retreat in the United States? Here is why the Grand Canyon State will win your heart.
Superb Weather
Arizona experiences desert weather. Therefore, the winters are usually milder than in many other places. And this means one thing, you can still explore the outdoor beauty of the state without worrying about the frigid temperatures.
Many people associate Arizona state with the dry Sonoran Desert and the Canyon. However, you will be delighted to know that there are snow-capped mountains. You can, therefore, find a wellness resort that offers winter sports and activities
Also, there are ski resorts conveniently located across the state. With the naturally snow-capped areas, and the ski resorts, you can participate in:
Skiing games,
cross-country-skiing,
snowboarding,
snowshoeing,
Explore the Natural beauty of Arizona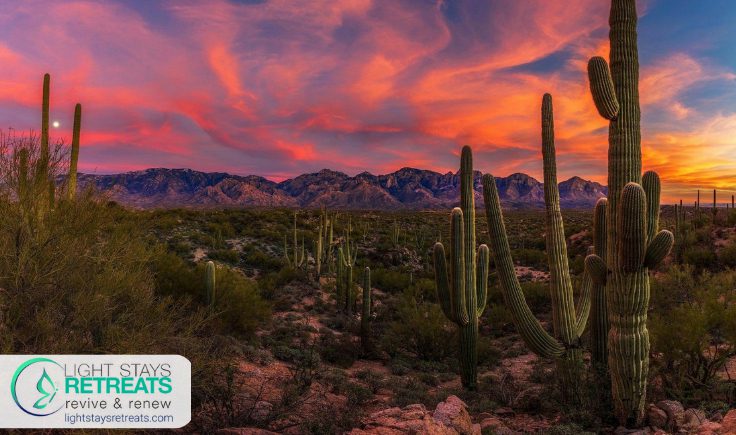 Arizona is a land of diverseness. And, we love how it helps you get in touch with nature.  The remote regions of Arizona help you get over the rushed city life.  
Another goal of going to wellness retreats is to get a digital detox. You leave behind the city, electronics and the internet to go and interact with nature. And Arizona is huge on that. There are a lot of natural beauty aspects that will keep you off that phone. And trust us, you will not get the urge to check who posted what on Instagram.
You will love the deep nature connection you will get from:
bird watching in the farms and natural orchids,
the breathtaking view of the Paradise Valley or the Santa Catalina Mountains;
the beautiful land formations in the Sonoran Desert
With Arizona, you are sure to get exclusive offers on outdoor adventures. And, that is a sure way to:
rest your entire body,
finally breathe fresh air,
sit in silence and connect with your deeper self;
relax and re-energize your mind.
With the diverseness of Arizona, you will get all the nature connections your well-being craves. Want to give hiking a try? The diverseness of the hiking trails in different Arizona locations will blow your mind.
Retreat in Luxury
After working hard for some time, you only need to take a weekend to treat yourself well. Take a luxury vacation to rejuvenate your body and mind.
You will be impressed at how many luxury retreats and spas Arizona has to offer. Furthermore, many luxury resorts offer daily wellness classes and aerial yoga.
Where to Retreat in Arizona State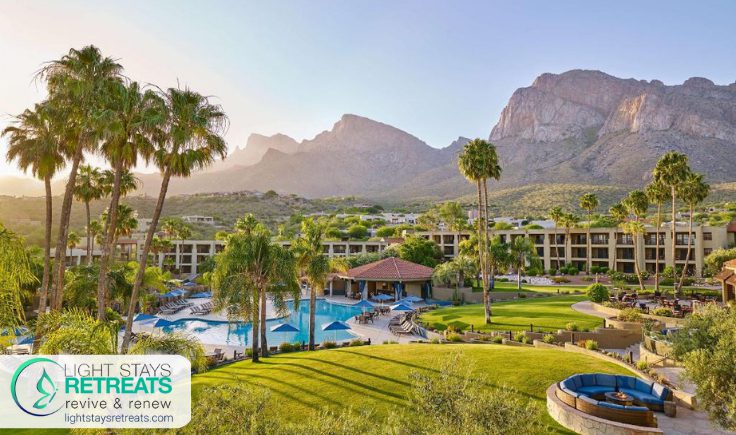 Arizona is vast. And we cannot get enough of its diverseness. The good thing is, wellness retreats and spas spread across Arizona. Don't get shocked when you have a difficult time choosing. That is Arizona for you; too many good things to offer.
We, however, try to break it down for you. As you are looking for a location for resorts in Arizona, you need to know what activities you have in mind. What are you looking to gain from the wellness resort? This will help you choose a city that has the best to offer you.
Here are our top three cities and why we fall in love with them over and over again.
Get to Experience Sedona
Sedona alone is a reason you should pack those bags and head down to Arizona. There is something about Sedona Arizona that makes us want to go back again and again. You will always leave feeling rejuvenated and re-energized.
The red rock scenery, compelling spaces, and evergreen vegetation are so magnificent in Sedona. If you are looking to practice mindfulness, the tranquility that Sedona offers will suit you well.
The serenity in Sedona never ceases to blow our minds. From a long day of practicing mindfulness in a spa or wellness property, then you get to fall asleep in casita-style rooms. 
You will also love how big Sedona is on spiritual retreats. If you are looking for spiritual retreats Arizona, you will love it in Sedona. Many wellness centers offer physical treatments and also spiritual nourishment to their guests. In such wellness facilities, you will learn to:
practice the art of meditation,
connect with your inner spiritual path
connect with experienced spiritual leaders
Get to Enjoy Tucson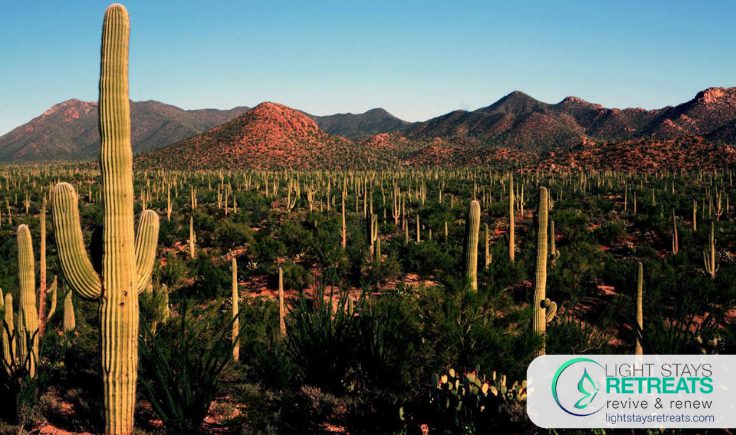 You will love having your retreat in Tucson. However, you will be head over heels for what the surroundings of Tucson have to offer. You are most likely to receive exclusive offers to get to savor the breathtaking Tucson and its surroundings.
besides the wellness you achieve from your retreat in Tucson, you are also likely to enjoy:
guided hikes,
the trails of Saguaro National Park,
nature and fresh air in Tucson botanical garden,
spiritual nourishment at San Xavier Del Bac,
silence and mindfulness at the Cathedral of Saint Augustine.
 Tip: While in a retreat resort in Tucson, do not confine yourself. Get out and release the daily sweat as you enjoy what more the city offers to its guests. 
Devour into Phoenix
Phoenix is another city located in Arizona that we cannot get enough of. It is easy to find good deals in a resort spa in Phoenix, especially during the off-season. With such, you can treat your body to VIP care such as a professional massage. Furthermore, you can look for something in a yoga retreat Arizona, and work on your physical and mental health. There are many yoga resorts in Phoenix that you will love.  
Besides, in Phoenix, you can get in contact with lots of wildlife in the zoo. And also get to interact with nature. Also, the surroundings of Phoenix will let you soak in nature and enjoy its healing power.
If you would love to lace up your retreat with luxury and nature, then PHoenix could work well for you.
Final Thoughts
There we go for Arizona retreats.
To sum it up, Arizona is a land of diversity. You get a taste of mountains, deserts and oases. (1) And with this diversity, you get to enjoy rare yet rejuvenating activities such as desert yoga. That, therefore, makes it a perfect destination for your wellness retreat. Remember that your wellness retreat should help you rest, rejuvenate, and, most importantly, optimize your physical and mental wellness. (2) If you are looking for all this in one location, Arizona is calling you. 
Sources:
1 https://www.foodandwine.com/travel/wellness-getaways
2 https://www.webmd.com/balance/features/go-on-a-meditation-retreat