Looking for retreats in California? We have got you covered. In this article, we reveal to you the wellness retreat world in the Golden state. We, furthermore, point you in the right direction when it comes to finding the best wellness retreats in California.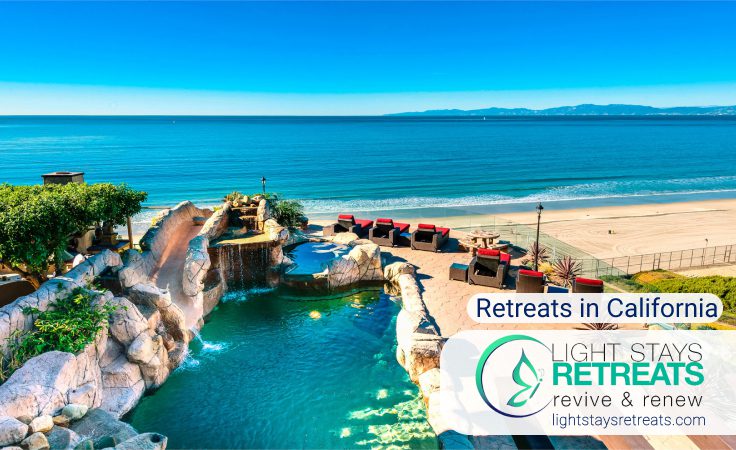 When we say California has it all, we do mean it. And trust us, your wellness and health journey will appreciate what California has to offer you. Whether you are getting into the wellness retreats world or using this adventurous way to optimize your wellness, you will love it in California.
California should top your destination list if what you are looking for is in lines of:
spiritual retreats and growth,
mindfulness and meditation,
thorough rest and healing,
inner peace,
nature exploration and interaction,
luxury treatments that may include massages and spa treatments;
Yoga and fitness classes.
That there is just a glimpse of how big California is on wellness retreats. How about you come with us as we dig deeper into how California wellness retreats could transform both your mental and physical wellness?
What Makes California a Top Destination for a Wellness Retreat?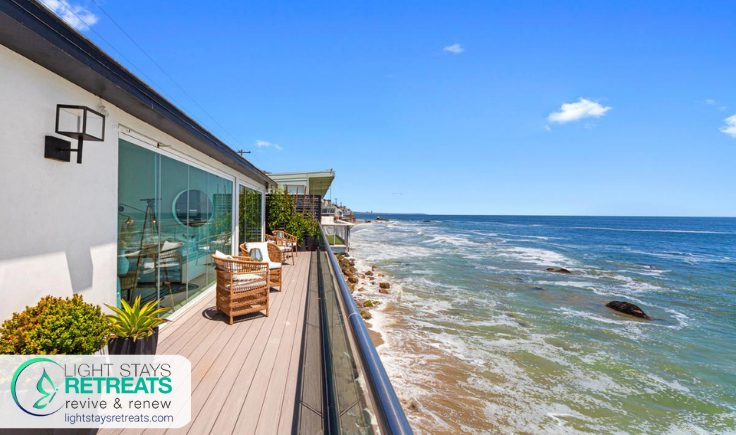 "How come people keep going back to California over and over?"
It is no secret; you too will soon be smitten by the wellness retreats in California. And, it should never come as a shock to you when you too keep going over and over.
Many people have found their happiness and took steps closer to their wellness goals. We, therefore, discuss why California has the best locations for a wellness vacation.
Take Part in Multiple Fitness Classes
There are a lot of wellness resorts in California offering multiple fitness classes. And, you will be mesmerized by how many of them make the sessions enjoyable.
We know, sometimes the regular workout can be tedious.
Besides, keeping up with your favorite workout trainer either at the gym or through Youtube does not work sometimes.
And the secret is to try and spice things up. For example, through incorporating yoga practice in your workout routine. Whether you are getting into yoga practice or you are already a yogi, California is the place to be.
There are wellness resorts that organize daily yoga classes. These will enable you to learn from professional yogis. It is also good to learn from like-minded people.
Enjoy Luxury in Spa Treatments
As you already know, California is huge on delivering luxury to its residents and guests. Your mind and body appreciate some significant time off. And, it is good to crown your time off with some pampering.
There is a list of luxurious spa resorts in California that you need to try out. The lavish break will not only give your mind and body the feel-good treatment. The lavish break will also:
allow you to take a break from noisy city life and stressful lives,
get a soothing massage and many other spa treatments,
take a break from social media and electronics,
sit back, relax and enjoy the softer side of life,
enjoy a modernized sauna, which may stimulate weight loss and many other health benefits;
shut your mind from life stress and focus on your mental well-being.
We fall in love with how keen California is on delivering luxury retreats. You will leave much more re-energized to restart life at a higher tempo.
Connect with Nature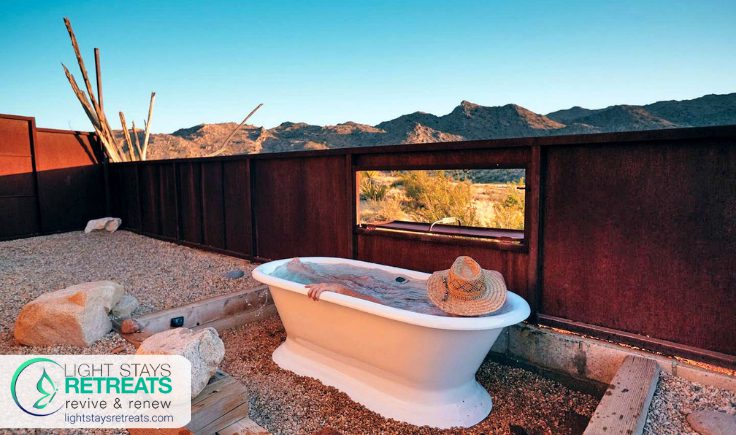 The relaxation level that comes with being out in calm nature is just out of this world. Sometimes, we love to think that California is showing off. It has it all in terms of nature.
Want to get onto the shores and relax after engaging in wellness classes? There are lots of classy beaches you will love. Nothing feels better than unwinding in the Pacific shorelines after your health-conscious workshops.
But maybe you are a mountain person…. take that trip to California wellness resorts. Start by finding a retreat that takes place by the mountains in California. Or something that is easily accessible to the mountains.
Spiritual Awakening
Going on a spiritual retreat is an excellent way to connect deeper with your spiritual energy.
There is a calmness that mountains come with. They are a good place for silent and guided meditation. Mount Shasta region is significant in offering spiritual resorts and meditation classes.
There are many more natural aspects you will love, especially in Northern California. With these, you get to connect with nature deeply. This is usually a crucial step in your spiritual journey. Nature is sacred, and being in it and understanding it is a boost to your mind and soul.
Live Like a Monk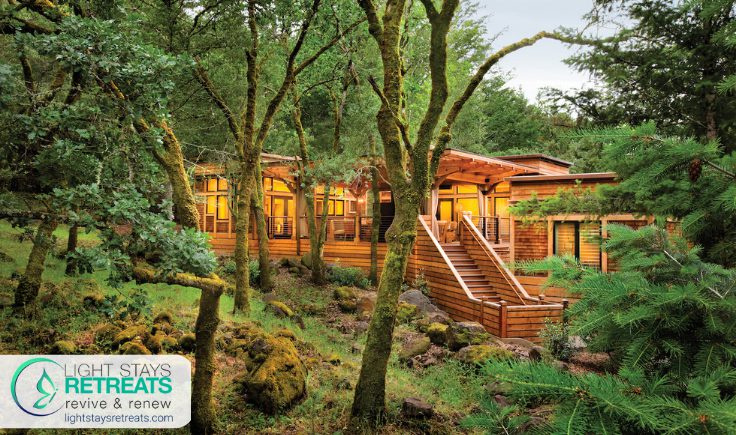 The spiritual journey is not always the easiest to take. Therefore, we encourage you to seek that spiritual retreat to achieve a more profound sense of inner peace. Imagine spending three days in a Buddhist monastery. The monasteries are usually beautiful and sacred places located in very serene environments.
In the monasteries, you are likely to indulge in:
Soto Zen through guided meditation,
Dharma talks,
mindfulness.
This, and learning from the experienced monks, will transform your spiritual journey.
Lots of Relaxing Activities
The goals of a wellness retreat are:
boost an aspect of your physical or mental health,
make you deeply relax and rest,
deeply meditate and rethink your life
engage in health-promoting programs,
explore nature and engage in different activities.
As a retreat takes place, you will want to engage in other activities to unwind and relax. The activities are not just for the fun part of it. Yes, they are fun, but they do come with many other benefits.
Explore the Hiking Trails of California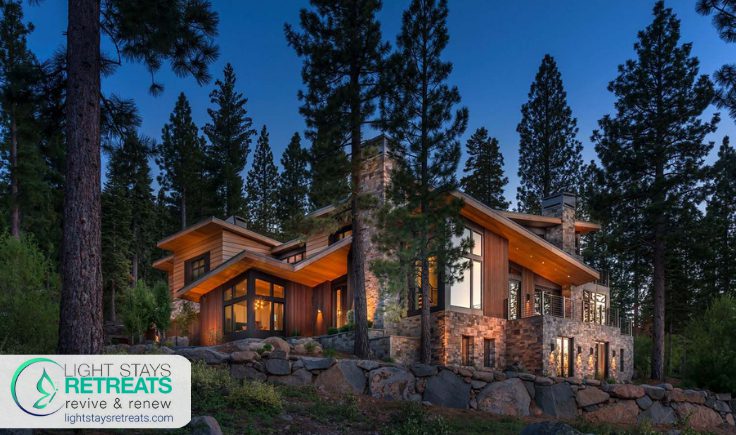 Hiking is not just going through the hiking trails for the fun part of it. It could be the needed boost for your fitness journey. Furthermore, it is suitable for:
lowered stress levels and improved mood,
reduced heart disease risk,
lowered cholesterol and body fat levels,
improved healthy weight control,
reduced blood pressure,
improved bone density,
boosted flexibility and coordination,
California offers lots of three-day retreats that incorporate guided hiking in them. Wellness programs with such activities are a sure boost to your well-being.
Not going to lie; hiking can sometimes get challenging. Sometimes going through the hiking trails becomes strenuous. And this is probably why a lot of people cannot stand hiking.
However, in California, you will enjoy moderate levels of hiking difficulty. And at every stop, you will be rewarded with dramatic yet breathtaking views of California.
Such hikes may include spending up to a week in the wild. This may entail camping in high-altitude comfort remote camps. We cannot think of a better way than taking a retreat in the wild and just focusing on your well-being. It helps you drop all your life baggage and focus on optimizing your physical and mental health.
Dive Deeper into Yoga
Picture this, a healing retreat in a serene monastery. (1) And it includes daily yoga sessions. What more can your mental and physical being possibly ask for?
Book that weekend wellness trip to California, and get yoga treatments for your well-being. Lots of weekend wellness getaways in California offer yoga classes in:
Hatha yoga,
vinyasa flow,
Kundalini yoga,
gentle yoga,
Tantra.
A combination of daily yoga and wine tasting is all we can ask for for a weekend of thorough relaxing.
In the remote wine countries in California, retreats are filled with:
daily yoga classes and meditation,
healthy farm-to-table meals,
nightly wine tastings,
Dips in the hot tub.
Bask at the breathtaking California Beaches
After a day of calmness and a gentle massage, the next thing you may want is to unwind with a serene view of the sunset. The other perfect scenario will be attending healthy living classes that may incorporate healthy eating by the day. And then, unwind up in the evening at a private beach.
Here are some advantages of unwinding at a beach:
change of scenery and thus reduction of stress,
improved overall well-being and mood,
Explore the Desert Hot Springs
The resorts in Desert Hot Springs are something you should look forward to. First, the city itself is a sight to behold. And you do not want to even start thinking of the beautiful resorts it has. The tamarisk trees around make the experience even better.
Getting into the wellness practice in Desert Hot Springs is a sure way to tap towards a fair and stable mental practice. (2) First, it helps you break the cycle of being in a crowded city center, and therefore giving you inner peace. If you hear anyone say that Desert Hot Springs is their happy place, it is not just because they discovered a spa resort that gives them the deserved VIP treatment. The city's serene ambiance is a whole healing package on its own.
Detox like a Celebrity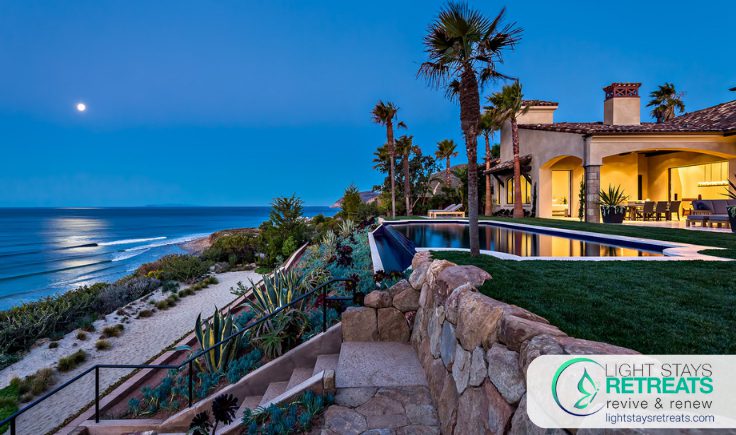 It is no secret, Hollywood elite frequent retreats in Northern California to detox. The detox sessions often involve plant-based meals and sometimes fitness tricks that help expel body build-up.
Such programs have been frequented by the likes of Oprah, Julia Roberts and Gwyneth Paltrow. And you too may love the lavish experience you get from the detox process.
Soak in a Desert Oasis.
Soaking in the healing mineral water under the shade of the tamarisk trees has become another favorite wellness resort activity. The guests get to experience such sessions, which in the long run helps them find their spirits.
These California retreats include:
unique health therapies,
water shiatsu,
sound healing vibration,
shaman-led classes.
These will be a boost to both your physical and mental health.
Final Thoughts
At Light Stays Retreats, we crown California the Mecca for travelers looking for both mental and physical well-being. And the good thing is, retreats can be found all over California. Additionally, California has it all. Whether you want to get in beach yoga retreats in Southern California, or you explore the serene, breezily beautiful central Coast. Or explore remote Northern California as you optimize your health.
First, start by clearly defining your wellness goals. Then, start to picture what your ideal wellness retreat in California would be like. Then go ahead and book that wellness retreat. Trust us, the retreats in the Golden State will have you going back for more and more.
Sources:
1 https://psychcentral.com/blog/the-hidden-benefits-of-silence
2 https://www.webmd.com/balance/features/go-on-a-meditation-retreat