When everyday life starts taking a toll on you, there is nothing better than booking a short getaway to a luxury spa retreat.
Whether you are after a lavish weekend getaway with your girls or a romantic escapade with your spouse, a spa weekend will work for you.
Not sure yet whether or not you should go on a spa retreat?
Sometimes, we get carried at the moment and forget all about self-love and self-care. Before you realize it, life has started taking a toll on you.
I often did not know how much I needed a break and rest to pamper myself. But I took it anyway. And the reaction, whenever I got to the spa resort, was always, "I did not know how much I needed this." It almost feels like finally breathing in some clean, fresh air. It was always worth it.
And you too could have this major shift in your self-care and self-love journey.
Before you go, here is all you need to know about going on a spa retreat.
What is a Spa Retreat?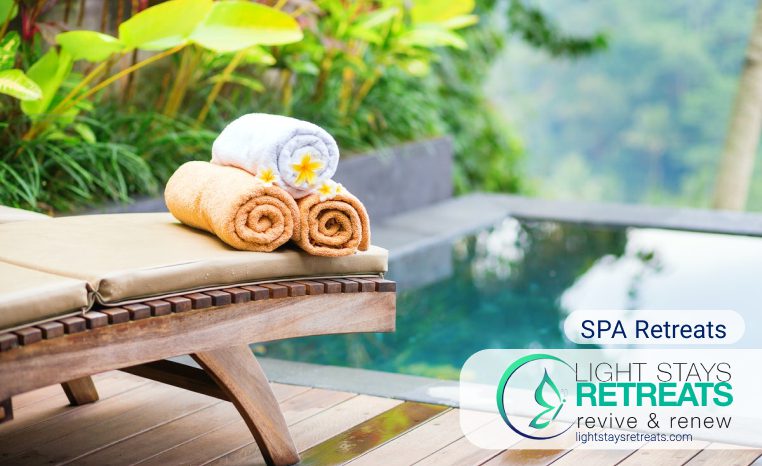 A spa retreat is a getaway to work on your mental, physical, and aesthetic wellness.
It is a relaxing way to:
heal emotional distress,
improve circulation,
give the mind and body a chance to fully repair from the stresses of daily life.
You can have a spa day retreat or half-day. This means that it will cater for:
treatments,
food,
and maybe classes or consultations around the retreat theme, such as cooking, yoga or distressing.
Types of Spa Retreats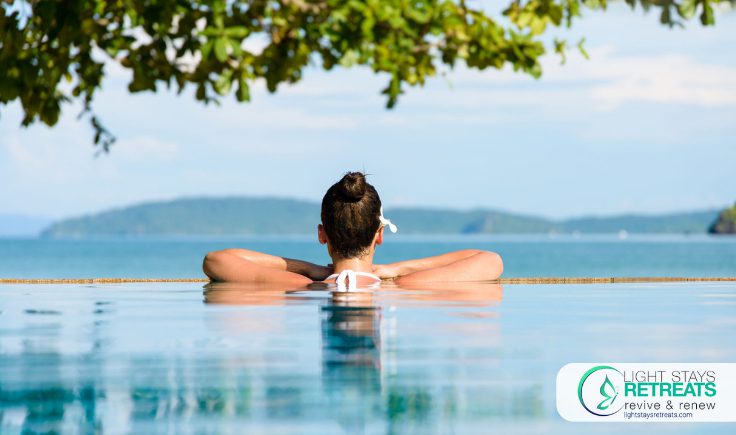 There are several types of spa retreats. It is essential you know them beforehand. You do not want to get rudely shocked on your arrival. You want to arrive and realize that the spa retreat facility offers precisely what you are looking for.
As you search for a spa retreat near me, keep the following types in mind.
Destination Spa Retreat
A destination spa retreat will provide you with a comprehensive healthy retreat program.
The program will include:
treatments,
fitness activities,
holistic exercise classes,
healthy cuisine and wellness lecture at the spa so you stay as tranquil as possible.
The guests go to a destination for 2 or 3 nights while undergoing the treatments and medical programs.
Anti-Aging Spa Retreat
With the stress of daily life, untimely signs of aging may start showing up. Going to an anti-aging spa helps reverse signs of aging. They let you regain that healthy, youthful glow.
This is done through a combination of aesthetic treatments and nutrition. Active skincare treatment strengthens and reveals more excellent texture and tone of the skin. You will enjoy a range of holistic therapies to leave you looking and feeling young and rejuvenated.
Medical Spa Retreat
Medical spas offer medical services as well as traditional spa therapies. This often happens in a spa-like environment.
The treatment focuses on one area, either aesthetic enhancement or wellness.
A medical doctor oversees the spa and typically provides a health consultation before and during your stay.
Among the common treatments at a medical spa are Botox and laser resurfacing.
Relaxation and Pampering Spa Retreat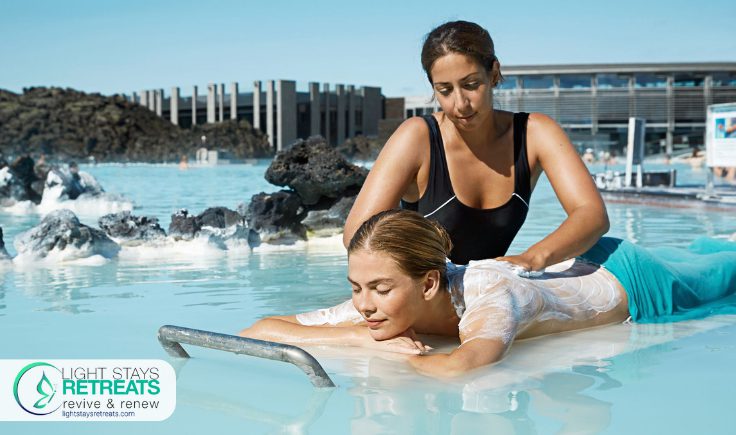 At a relaxation and pampering spa, you will be provided with professional relaxation and beauty treatments.
In the treatment rooms of relaxation spas, you will receive first-class and personalized treatments. The spa services will most likely include:
massages,
scrubs and saunas,
hydrotherapy treatments and thermal circuits.
These are common in hotel or resort spas too. We highly recommend this to travelers and businesspersons that are constantly stressed by their lifestyles and daily activities.
Traditional Spa
Traditional spas bring together an extensive range of spa treatments and therapies with the purpose of:
improving health,
enhancing beauty,
relaxation
At a traditional spa, you should expect services and facilities such as:
a jacuzzi,
sauna and steam room,
hydrotherapy circuits,
fitness center,
swimming pools.
Ayurveda Spa
At an ayurvedic spa, you will receive massages consisting of the usage of essential oils. (2) The massage techniques at an Ayurvedic spa include tapping, squeezing, and kneading. You can also expect some traditional massage strokes.
Ayurvedic massage uses the knowledge of Ayurvedic medicine to apply the massage to you. It is excellent for relaxation, releasing emotional blockages, and relieving stress.
What do people do in a Spa Retreat?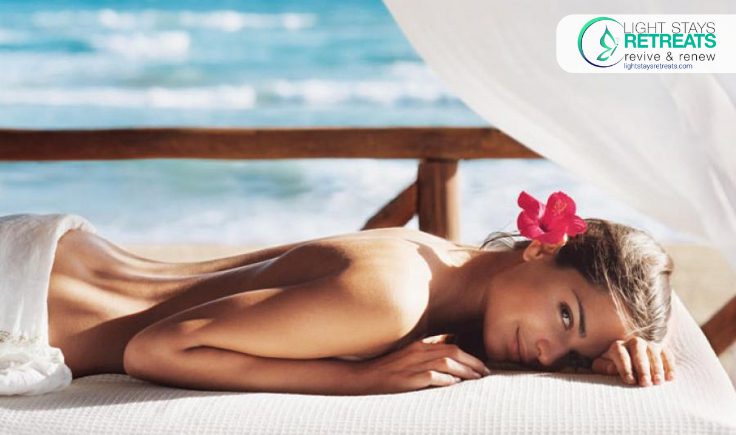 Today spas are no longer tied exclusively to geothermal water or mud baths. But they still promise relaxation, a chance to rejuvenate, and a renewed sense of purpose.
On the basis, the level spa offers treatments like:
massage,
body treatments and facial treatment, which will improve your sense of well-being.
At a higher level, legendary destination spa can help you with medical issues or cope with life setbacks like a business failure, divorce, and death.
A typical day at a spa retreat may include:
morning meditation,
yoga practice,
healthy nutritious meal plan,
a massage or energy work treatment.
These activities give your mind and body the space it needs to work through deep-seated pain. They also help you understand your true self and desires.
Why do People go on Spa Retreats?: Benefits of Spa Retreats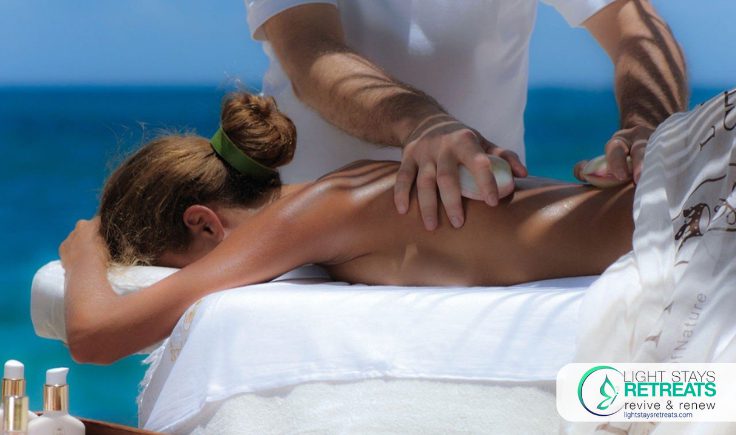 The spa has been known as a place of healing for thousands of years. Native people, Roman soldiers, royals, and paupers journeyed to a warm mineral spring bath to alleviate pain and cure ailments. (1)
Today, people go to spa retreats for their treatments. Are you still weighing on whether or not to get a luxury spa retreat? Give it a try; you'll enjoy the following benefits.
Improved Health
Going to a spa retreat resort for a weekend is good enough to boost your health. To many people, spas are just a place to relax.
However, an all-inclusive healthy spa offers nutritious, balanced diets and exercises. And as if that is not enough, you will learn many healthy living tips from the spa. You will leave the resort with a whole new perspective on healthy living.
Furthermore, going to a spa lodge is good for your mental well-being. Focusing on your physical well-being and overlooking your mental well-being often ends in vain.
One reason we adore spa retreat services is how they take care of both our mental and physical health. With going to a spa lodge, let go of all the life struggles and stress. You pamper yourself with massages, nail care, facials, and excellent meals. Trust us; your mind needs that break.
Spa Retreat for Improved Immunity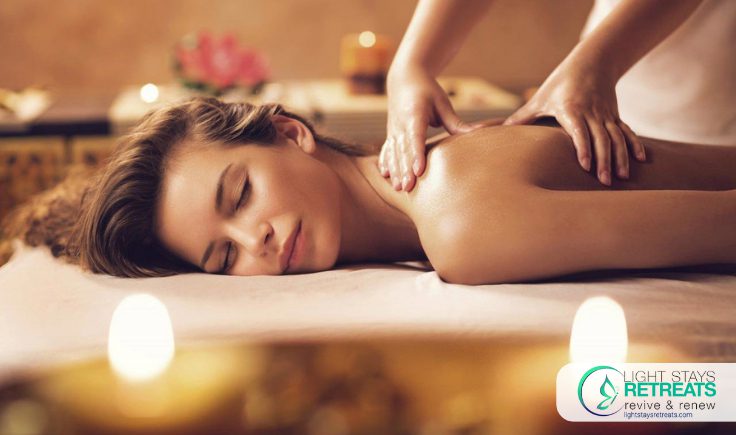 Over 1/4 of all adults worldwide suffer from high blood pressure. The statistics are even more wanting in America. And, the consequences of blood pressure can be detrimental to an individual's health.
Massages are the most common treatment in any spa retreat. It is not a spa retreat if they are not massive on offering their guests quality massages. One critical benefit of massages is that they boost blood circulation. It does so by pushing and thus increasing the drainage of the lymph fluids. When the lymph fluid is drained, it goes out with other toxins.
Also, increased blood circulation is equivalent to increased transportation of oxygen and nutrients. Your body functioning and health will take an upwards trend if your cells have access to more oxygen and nutrients.
Lose Weight
Few spas still have a strong focus on weight loss. However, the treatment you receive at a spa resort will surely trigger a successful weight loss journey. With the following, you are sure to get on the right track of weight loss:
massages,
healthy eating,
relaxation and stress-relief,
dry saunas or steam room treatments to stimulate more sweating.
Thorough Relaxation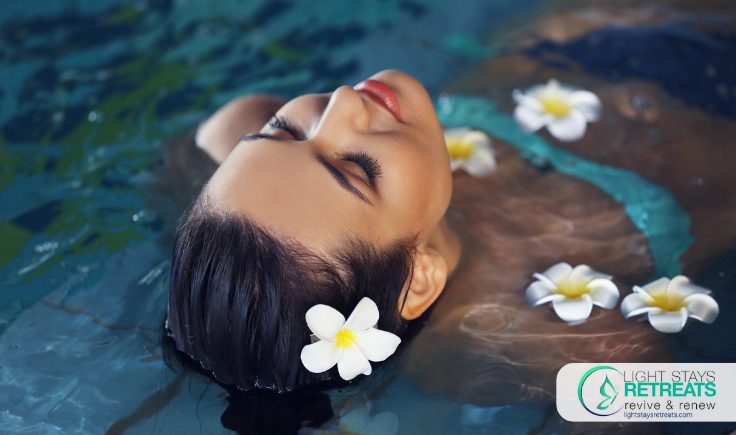 Traditional spa treatments will offer you a deeper level of relaxation; you will be grateful you took that journey.
It is synonymous with hanging by the pool or in an indoor pool and getting treatment while improving your wellness.
You can choose to leave your family and friends behind and focus just on yourself. However, if your true relaxation comes when you are in the company of your loved ones, we assure you that there are so many family-friendly spa resorts.
Do Yoga
Yoga is good for your mental, physical, and spiritual wellness. To us, a spa retreat is like a wellness resort. If it works on the wellness of your body, mind, and soul, it is a wellness center you want to be in.
Many traditional spa retreats offer yoga sessions. Yoga is one of the body treatments that everyone should embrace. From the yoga classes, you will learn:
physical yoga poses,
mindfulness and mindful breathing,
reconnecting with your inner self and spirituality.
Get in Contact with Nature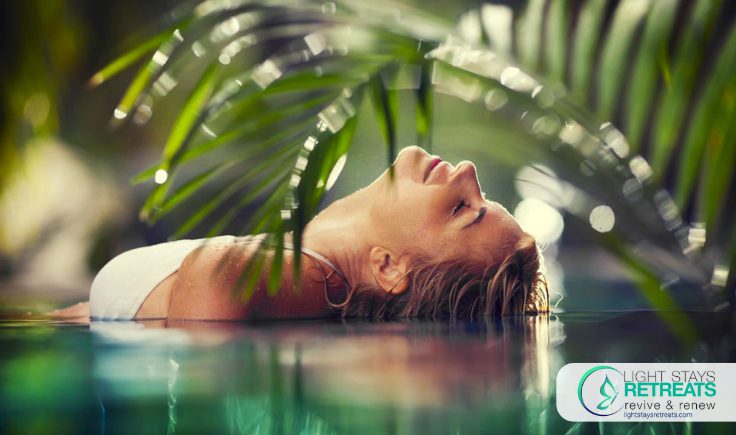 City life makes many people lose actual contact with nature. Taking a quick trip to your city park can no longer be classified as a nature walk. The cities are full of both noise and air pollution. Going out to a resort spa out of town is the ultimate way to enjoy the benefits of being in nature.
Furthermore, you can get a day spa or a weekend spa with hiking trails for its guests.
Picture this, going for a hike, come back and immediately receive a full body massage, followed by a steam bath in steam rooms. That is a heavenly combo if you ask me.
The spa experience you will get from the treatment rooms of such a wellness retreat will spark energy to courageously face life.
Where is The Best Spa Retreat in the United States: Where to Go for Your Spa Retreat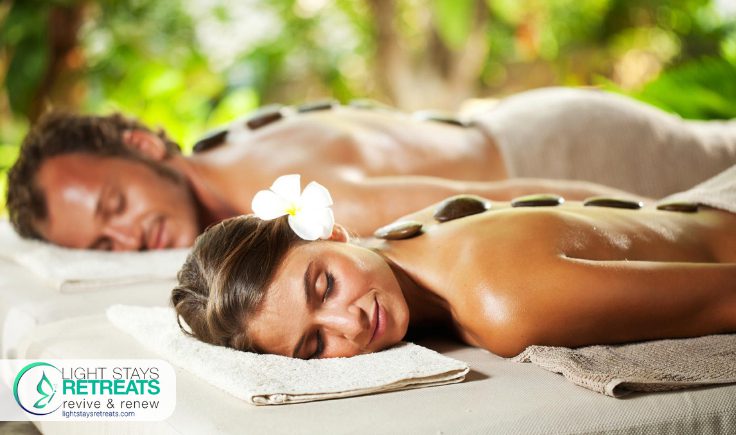 Hands-down California. Not just because it is one of the hippest states in the USA, but because it is keener in offering first-class luxury and much more. The Golden state never ceases to amaze us when it comes to its diversity. From the geographical offerings, cultural diversity, and vibrant cities, your soul will be full. Whether you want to experience it in the city, hiking trails, or on the shorelines, California has it all.
Arizona is another state that would give California a run for its money. Looking for some desert experience? Or maybe mountain ranges and forests to explore during your spa retreat? Arizona will definitely work for you. Arizona has more parks and monuments than any other state. And what carries the day for Arizona are the luxurious spas and their services. It would be an experience like no other.
Way to Transform Your Home Into a Spa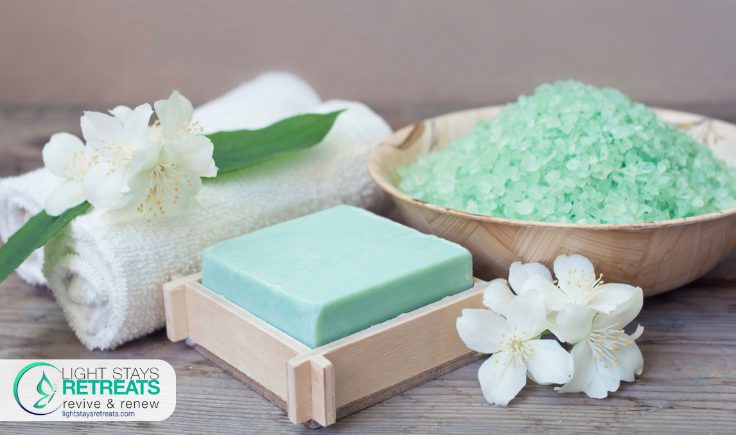 Who do I leave the kids with?
I do not have enough money to spend on a luxurious spa retreat right now
My busy schedule would not allow me to drive out of town for a spa experience
We know that certain obstacles can prevent you from going to a luxury retreat. It is life, and if you cannot travel to that happiness, you still have to create it on your happiness at home.
Below, we help you create a quality luxury spa treatment at home.
Step 1: Use Rose Water for House tasks
Rosewater can do the magic when you are setting the mood for a luxury spa treatment.
While ironing your clothes, add rose water hydrosol to your steam iron. This will leave your clothes freshly scented. And as you iron, the aromatic steam will freshen the air.
Rosewater can also cleanse your skin.
Step 2: Create a Clean Space for Yourself.
Have a place, nest, tidy and isolated where you can escape to. It should be away from others living in the same house as you to check in with yourself. As you go to the place, remember to leave your electronics behind.
You can also set the mood around your bath or soaking tubs. Get as extra as needed. Get those bath bombs, scented candles, and even petals for the soaking or both sessions. It is a wellness resort that aims at making you feel loved and relaxed.
Step 3: Light some candles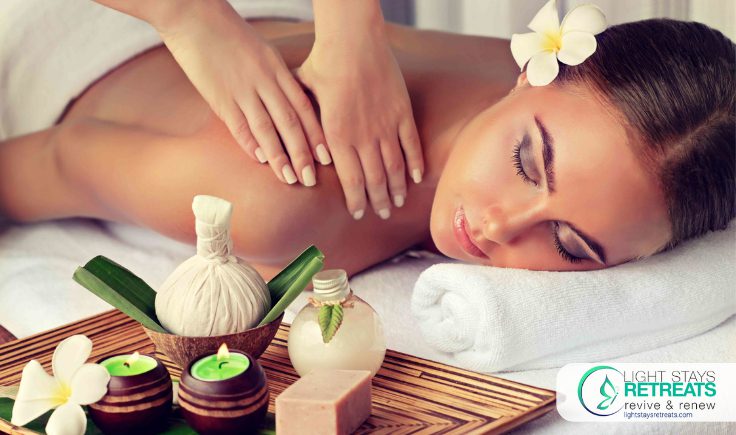 A few glowing scented candles in a darkened room can create a rather holistic experience not only because of their scent but also in how they change a room's lighting. It is a sure way to get you in the right relaxation mood.
Step 4: Dress in Clothes that make you Feel Pampered
Some spa resorts offer comfortable clothing to their guests. They let the guests change into comfortable clothing in their locker rooms.
The secret is to wear something that feels good on your skin. No, forget about those clothes that feel messy. Go for fabrics such as linen or good quality cotton. They are feel-good fabrics.
Step 5: Invest in an Infrared Sleeping bag.
At the end of your day spa, you want to fully relax your body and have a perfect night's sleep. We recommend that you get an infrared sleeping bag.
This blanket hugs your body with heat, helping you to sweat out all the toxins while soothing your aches and pain. In a resort spa, guests may sweat it out in the steam rooms. Creating a full steam bath at home can be challenging. Our best alternative is, therefore, an infrared sleeping bag.
Step 6: Go out For Self-care
To top up your homemade spa experience, you can call in services such as nail care, massages, and facials. However, you can drive out to your salon and have these services done on you.
You can also choose to attend yoga classes at a gym, online, or a yoga studio.
How Much Does a Spa Retreat Cost?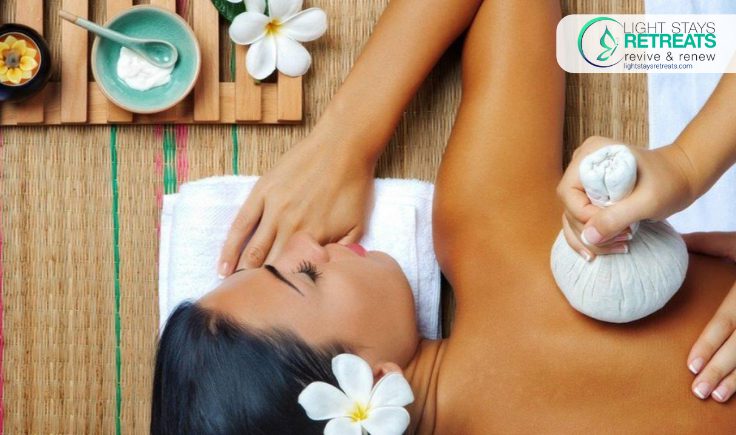 A spa package can cost $150-$450 for a few hours. The prices can go from $750 and more for a full day full of healing treatments and indulgences sure to make you feel like a queen.
However, other spa treatments are inexpensive. They can be practices at home to chill out after all the madness in the last couple of weeks.
These spa treatments include:
aromatherapy,
steam facial,
face mask,
deep conditioning.
Spa Retreat Frequently Asked Questions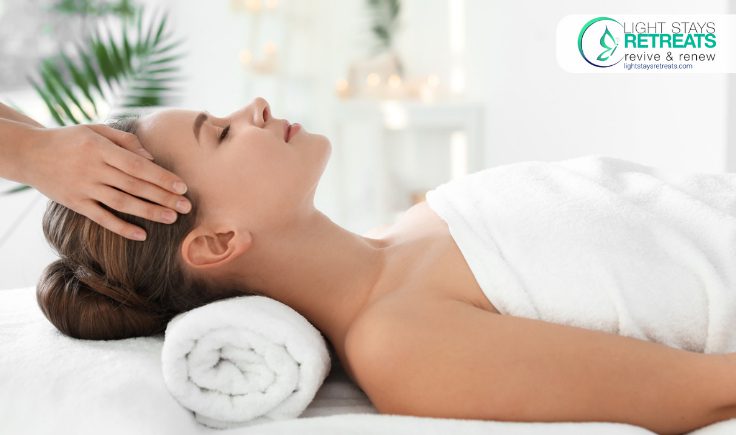 The features of a spa retreat are widely varied. One spa retreat can e the exact opposite of the next. And, the benefits enjoyed from spa retreats are also varied. Answering FAQs on the same could help clear up anything that came out unclear.
What is a Spa Retreat?
A spa retreat entails stepping back from the everyday lifestyle to enjoy healing, medicinal baths in mineral-rich waters, first-class treatment, and the science of healthy living. They focus on a wide range of beauty and wellness treatments and other wellness rituals.
How Much Does a Spa Retreat Cost?
It depends on what the retreat offers. Is it a day spa or a weekend-long spa? How luxurious is it? However, spa resorts will cost anything from $450 for a few hours.
Conclusion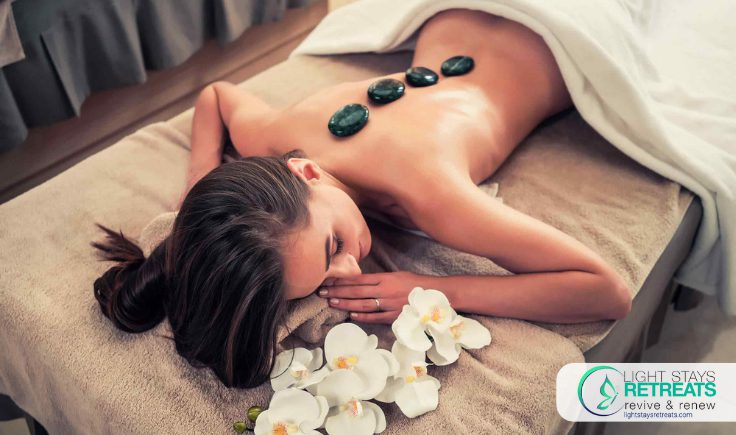 "It is not selfish to love yourself. Take care of yourself and make your happiness a priority. It's necessary." Mandy Hale. Our last words would be to tell you to go to that resort spa. You can expect improved mental clarity, inner balance, and a complete re-energization of body and mind. It is a life-changing treatment your body and mind occasionally need.
Sources:
1 https://www.forbes.com/sites/laurenjadehill/2021/01/04/the-rise-in-immunity-boosting-wellness-retreats-for-2021/
2 https://www.elle.com/beauty/health-fitness/a26255676/ayurvedic-massage/